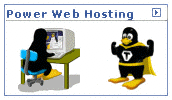 Unbelievably cheapest web hosting. Have a look at web hosting price list.
FREE DOMAIN REGISTRATION AND SETUP.
FREE DOMAIN REGISTERATION AND SETUP FOR EVERY HOSTING PLAN
You will get setup for FREE. You can have Setup and registration for a web address yourcompany.sofact.com for FREE.

You can have your site designed and hosted @ Swami's Sofact at as low as 365 Rs/- or 12$ per page per year. click here for details.
Web Hosting Features
*OC-192 Connectivity (The fastest and the only OC-192 backbone in the world)
*Unlimited email features (whatever accounts/aliases you need)
*Complete secure server (makes your entire site secure, including the cgi-bin!)
*RealSystem 5.0 (Real Audio/Video)
*Complete access to CGI-Bin directory
*24/7 FTP, Telnet & POP3 access
*Support for PHP
*Database Support with MySQL
*Support for Microsoft Frontpage (Now supporting Frontpage 2000 server
extensions!)
*Support for Miva/XML

Server Specification
*Server: 64-bit Sun Microsystems UltraSPARC server
(The fastest servers currently available for web hosting)
*Location: FGC-West Datacenter located in California, USA. The fastest and
the only network based on an OC-192 SONET ring.
*Operating System: Linux
*Web Server: Apache
A few highlights of the FGC-West Datacenter: gigawatt diesel generators (7 day
running time without refueling!),UPS short-term power backup, multiple
redundant
satellite links, hundreds of security cameras, keycard security access, ultra-
redundant Cisco Catalyst FDDI cores, computer-controlled fire suppression, and
shock-mounted cabinets.
Had you ever got your one Dollar/Rupee coin Over-Utilized ??? Over utilize your money by getting your web site designed and hosted at Sofact
Do you know most inexpensive way to get

Click to learn that web sites are very much affordable if designed and hosted at Sofact
Web Site Designing at competitive rate. We design inexpensive, simple and fast loading web sites. Web page for only 1 Rs/day (1$ /month). This includes Web designing, Web hosting, Web domain, Site setup.